24 passenger Ford Excursion SUV above. Interior below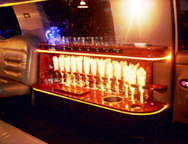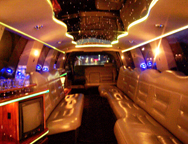 ---

20 passenger Lincoln Navigator SUV above.Interior below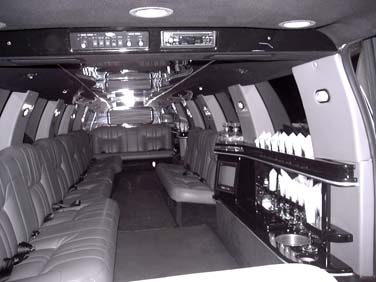 ---

2nd 20 passenger Lincoln Navigator SUV above.Interior below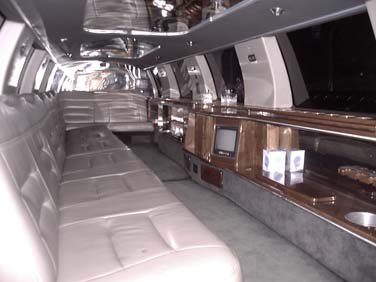 ---


14 Passenger Limousine Above, 5th Door and Interior Below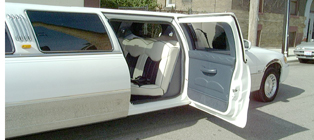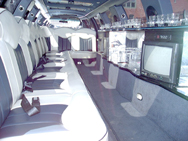 Car and SUV Features:
AM/FM STEREO CASSETTE PLAYER
IPOD/MP3 PLAYER CONNECTION
MOOD LIGHTING
DOUBLE PRIVACY DIVIDERS - CLEAR AND SOLID
BAR FACILITIES
CONFERENCE SEATING
COLOR TV/VCR
TINTED GLASS
SEATING CAPACITIES FOR 6, 8, 10, 12, 14, OR
20 PASSENGER SUV and COACH
All Cars Are Non-Smoking Vehicles
Airport Service Starts at $35.00 & Up
Discounts for Multi Car and Occasions Usage
"All Rentals Receive FREE
Complimentary Bottle of Champagne" (21 and Over Only)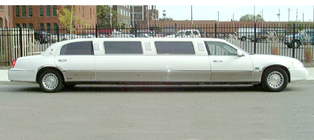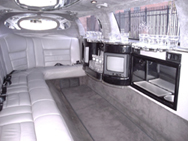 10 passenger Limousine and interior above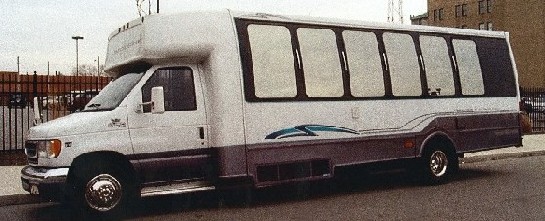 LUXURY COACH FEATURES:
Leather Seating
Complete Audio/Visual Center:
TV-VCR, Surround Sound Stereo,
Cassette and CD Player
IPOD/MP3 PLAYER CONNECTION
Central Heating/Air Conditioning
Comfortable Seating for 20 -22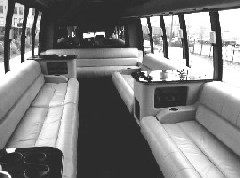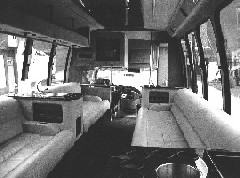 "WE GUARANTEE OUR SERVICES"
"Our Main Priority is a Satisfied Customer"
OUR GUARANTEE IS:
The car will arrive neat, clean, and in good operating condition.
Drivers will be neatly dressed and well mannered.
SERVICES AVAILABLE FOR:
CONCERTS & CONCERT PACKAGES
WEDDINGS • BACHELOR • BACHLORETTE PARTY
PROMS • HOMECOMINGS
EXECUTIVE BUSINESS/SALES MEETINGS
BANQUETS • SIGHT SEEING TOURS
SPORTING EVENTS • SHOPPING • CONVENTIONS
CLASS OR FAMILY REUNIONS
THEATER • DINNER PARTIES
CHRISTMAS/OFFICE PARTIES
NIGHT OUT • DESIGNATED DRIVER
AIRPORT SERVICE
The origin of the limousine
Limousine (fr. limousine, from Limousin, the name of the historic province of Limousin in France, where the inhabitants wore hoods similar in profile to such a car) is an enclosed body of a top-class passenger car with a glazed partition between the front and the rest of the seats. A limousine is also called a car with such a body.
Limousine
In the early 20's limousines were made exclusively to individual orders and served as a further confirmation of the owners' social status. They were built individually, cost a lot and were perceived by purchasers as a luxury item. At that time, the word "limousine" meant a big, powerful automobile with a separate compartment for the driver and the passengers.
The first long VIP limousines appeared in America in the 20s, and carried Hollywood stars - from party to party, premiere or film festival. In the 1950s, there was a need for large-size parade cars, and they began to be made by extending the standard executive car body with a special insertion between the front and rear doors, and adding various details according to the preferences of the individual customer.
At all times, car companies that produced limousines competed for the attention of the august personalities. At different times and years, the high and mighty chose different brands, but the choice was based not only on looks and comfort, but also on tradition and political calculation. American presidents prefer limousines of automobile companies Cadillac and Lincoln, European heads of state choose Mercedes.
These brands are still the most prestigious and reliable representatives of this class of cars, and any of them can be ordered in our company. Nowadays the largest limousine in the world is the car which weighs six tons and can accelerate up to 200 km/h converted from Boeing-727!
Call Brentwood LimousineToday